There are history and tradition, some staff with hospitality.
Built in 1874, with over 145 years of history, Located at the heart of Kochi City, this hotel affords easy access to sightseeing spots. The hotel boasts of a panoramic open-air bath where guests can relax while looking down at the Kochi Castle Town area.
Time at Jyoseikan
Plan1 Relax in the lobby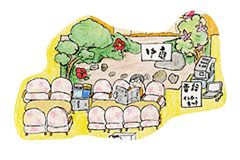 Once you check in and relax in your room for a moment, you have an option to come down to the lobby.
You can see a big tree called a Melastomataceae (Heterocentron elegans Cote d'Azur) in the courtyard. Generally, the tree rarely flowers, but here you will be able to enjoy its elegant purple flowers as the name implies.
In the cabinet in front of the tea lounge "Seseragi", we proudly display pictures of the royal family and the former prime minister Mr. Yoshida. He was one of the VIPs we have welcomed, and he used to love our hotel wholeheartedly. We also exhibit an "Old Parr" bottle he enjoyed. We look forward to having you here with all these precious displays.
Plan2 Relax in the tea lounge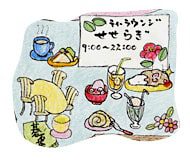 Would you like a drink or something nibbly? Then, our tea lounge "Seseragi" would be the best place to go.
Our top recommendation is the "Fancy 3 Desserts Platter." We serve vanilla ice cream, purple sweet potato paste and sweet potato chips. The chips are seasoned with salt and butter. Try eating them with ice cream; you'll experience a fascinating harmony of flavor!
Other items on the menu include "Beauty juice" with collagen, "Mango ice cream & crushed ice cream "which is perfect for a hot summer's day, etc. We are waiting for your visit!
Plan3 Relax at Shiromiyagura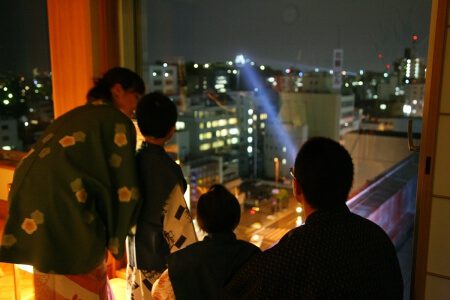 Wash away all your fatigue in the vistaed open-air bath with a magnificent view of Kochi city, and then relax at Shiromiyagura. You can not only see the illuminated Kochi-jo Castle right in front of you, but you can also shine a light into the castle yourself. You might also want to try the flavorful Yuzu tea available at the after-bath café.
Plan4 Fulfill your appetite at the buffet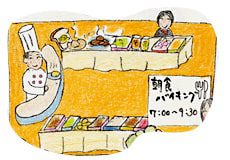 You can't miss our breakfast buffet with 60+ kinds of delicious dishes (both Japanese and Western dishes are available). Your day starts right from here!
Our recommendation is freshly cooked dishes at the open kitchen. You can even order sunny-side-up eggs, omelets, etc., and our skilled chefs will cook in front of you.
Plan5 Other activities to do
2 minute walk from the hotel is Ryoma's Birthplace Memorial Museum. This museum in Ryoma's hometown is surrounded by the relaxing smell of wood. It will surely let you spend a relaxing time.