See the cooking process of bonito tataki
(seared bonito).
The combination of dynamic performance and burning straw is breath-taking.
At Joseikan, you can see the cooking process of bonito tataki (seared bonito).
Starts at 5:50 p.m. every night!
All the bonito served in Joseikan are seared with straws!
The bonito Tataki we serve for the dinner and other banquet plans are seared with straws. We highly recommend this authentic, flavorful bonito that is totally different from one cooked with gas.
Joseikan is the only hotel searing all the bonito served in Kochi city! ※1 ※1 … As of May, 2020. Survey conducted by Jyoseikan
Why do we sear bonito with straws?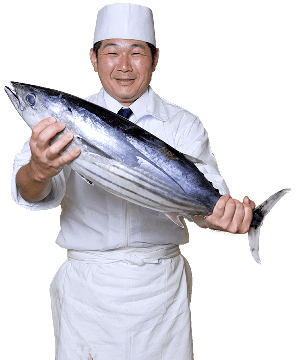 Straws make a difference to the flavor and it is the best way to cook fresh bonito!
Although cooking bonito with gas in the mainstream method, we chose to take a traditional way using straws to sear the bonito.
It requires time and is more costly, but the aroma of smoke from burning straws brings out the one-of-a-kind flavor and removes the fishy smell. The fresh bonito is cooked for a short period of time so that it doesn't get cooked through. The surface takes dull color and crimps; this is the sign of perfect Tosa-style seared bonito!!
Three specialties for our straw-seared bonito
1. Bonito

Joseikan uses 16 tons of bonito a year, which makes us one of the top hotels regarding bonito purchasing. We take advantage of this large quantity, and have established a effective purchasing route that allows us to stably ensure the stocks of bonito with a superior quality. We also possess a certificate as a middle trader, and we directly negotiate with the Kochi central wholesale market.
Various bonito dishes
We offer not only Tataki but also other original bonito dishes. We devote our effort to creating fine meals, and are proud to serve you the top quality food in Kochi.
Dress the bonito
You may know Tataki served with citrus sauce as a popular way to eat bonito. However, there are a lot more ways to enjoy them in Kochi. We have plenty of delicious dishes using fresh bonito to introduce to our guests from outside of Kochi.